Meet Steven and The Bear Bunch!
How Steven the Bear invented S'mores is a fun camping story with Steven and his friends. They hike, camp, find animals, bird watch and on this particular adventure, Steven accidentally invents the amazing treat of S'mores.
It's a great read aloud picture book, with fun life lessons and beautiful illustrations.
Be on the lookout for S'more adventures with Steven.
Buy Now and support local bookstores $24.95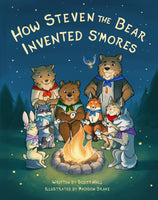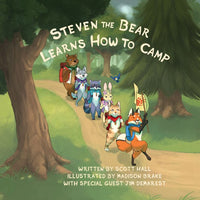 Steven the Bear Learns How to Camp (Paperback)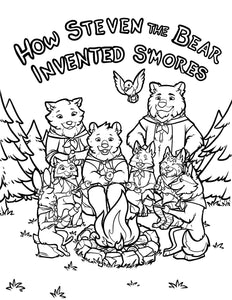 A introduction reading by Grace DeLynne
Testimonials - To leave a review, please contact us
My daughters love How Steven The Bear Invented S'mores! It inspires our family to be outdoors more, go camping, and have fun adventures together.  The little characters are endearing and we can't wait for the next books in the series! - Christine Gail, Author of Unleash Your Rising, Book Publishing Coach

I love the new Steven the Bear Book Series! Not only are the pictures adorable, but the story is interactive to keep children engaged! A little bit of counting, searching & learning about simple camping tips! My kids loved this book, especially the s'mores! We can't wait for the next one!" - Tiffani Patlán, Author of Unlocking Your Ability to Heal

I loved "How Steven the Bear Invented S'Mores. The story was delightful and the illustrations brought the Bear Bunch alive! This is exactly what a children's book should be. Fun, educational, and filled with hope. Can't wait to learn how to camp!" Jim D. Author, father, story teller, and lover of a good book.

We absolutely love the book! My kids ask for s'mores night every time we camp and this will be our go to campfire story from now on!!!  - James Cobb

This is a great adventure story that is both educational and fun. The characters are inquisitive and adorable. Lessons learned are shared along the way. I look forward to more adventures. Well written. - Holly Snyder

I am so excited to share this book with our grandsons, friends and family! What a fun and wholesome kid's book. The character's are based on the author's grandchildren and are positively adorable. My grands even learned a thing or two which is a huge bonus! Already looking forward to the next Steven the Bear book. - Anne Duncan

What a wonderful family centric children's book! Full of life lessons, family unity, and wonderful illustrations. I love the S'more facts! Just a fantastic book all around! - Janette Kimmel

Dear Folks - Thank you for this beautiful book. I love the fabulous message of this book and the way the Grandpa Bear has so many cute sayings! These are going to come in handy on the next Girl Scout hike. "Staying with a friend will keep you safe in the end." but my favorite was about the whistle!! So cute!!!! Each of the children got to participate in different ways and that was super fun too. This is going to be my goto gift for the Holidays because the illustrations are beautiful and the story is so fun. Now I know how S'more's are made and I am delighted. (it is nice to be delighted in 2020) Thank you Steven the Bear!!! I can't wait to read your next book about camping with the Bear Bunch!  - Maggie Carroll

This book is awesome! The characters, stories and activities are very engaging and my 7 year old has been asking for me to read home this book every night- the little hidden jokes and references make the book a super fun read. - Stephanie

Steven the Bear is a wonderful story for the whole family! Keeping kids engaged throughout the book and the whole time teaching lessons about safety. We can't wait to see what working together as the Bear Bunch brings in the next book! - Brandie Marone
COMING SOON!
Steven the Bear learns how to camp is a fun camping story
with Steven and his friends "the Bear Bunch." They learn how to enjoy nature without harming it using a few of the principles of Leave No Trace (LNT). They hike, meet new friends, camp under the stars, and enjoy the outdoors.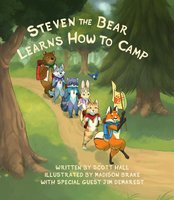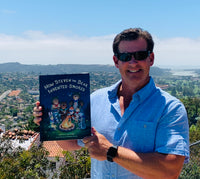 Meet the Author
My name is Scott Hall, "How Steven the Bear Invented S'mores" is my first book containing real life adventures I have had with my amazing wife, four fantastic sons and now six grandkids. I am not your typical author kind of guy. I was blessed to have served my country as an Air Force Fighter Pilot, with 28 years of service. It has been on my heart to share Steven with the world. Our son Ryan "invented" Steven one day telling stories to his 3 children. I was lucky enough to use Steven in my own stories that are now coming to life. Steven's adventures are from true events from in my life; camping trips, hikes, and life in general. I am also known for lots of corny Dad / Bear jokes (the grandkids call me Bear). My wonderful wife is called Gigi.
Meet the Illustrator
Madison Brake is an illustrator, scribbler, and cat fan currently surviving in the swamplands of Florida. She draws inspiration from animals, fairy tales, and the natural world.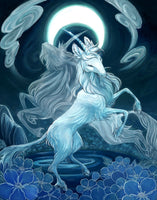 Misc Info
FAQ
How can I contact the author?
The best way to contact the author is either through our contact form on our website, just enter your name, email, phone, and message, or you can contact us directly at scott@steventhebear.com. When you visit the online shop, you'll find "How Steven the Bear invented S'mores," perfect for gifts for your own family.
What age groups are appropriate for this book?
This book is great for young readers 4-7, and it is great for the whole family to enjoy. This book helps young readers learn to read, learn to count, identify objects, learn the importance of friendship, and is overall an enjoyable read. Spend more quality time with your family and take a break from the electronics by having quality reading time.
What life lessons are taught in the book?
 This book helps tremendously with teaching life lessons such as counting, importance of friendship, and preparation.There are many other great life lessons that are taught in this book as well. Teaching children life lessons is not always an easy task, but this book makes it fun! 
What is this book about?
How Steven the Bear invented S'mores is a fun camping story with Steven and his friends. They hike, camp, find animals, and bird watch.  On this particular adventure, Steven accidentally invents an amazing treat S'mores! Be on the lookout for more adventures with Steven.

Is this book educational?
This book is not only entertaining, it's educational! This book helps young readers learn valuable skills such as counting and identifying objects, as well as personable skills such as how to make friends. Characters provide fun times and valuable life lessons.
Are there any physical stores I can buy this book in?
This book is currently being distributed to physical stores. Please stop by and ask your local book store and see if they have it. ISBN #9781631955013
By using our website, you (the visitor) agree to allow third parties to process your IP address, in order to determine your location for the purpose of currency conversion. You also agree to have that currency stored in a session cookie in your browser (a temporary cookie which gets automatically removed when you close your browser). We do this in order for the selected currency to remain selected and consistent when browsing our website so that the prices can convert to your (the visitor) local currency.
This section doesn't currently include any content. Add content to this section using the sidebar.